Dental Specials – La Mesa
We are pleased to extend the below special offers to our patients. If you have any questions about these deals, please give us a call and we will be happy to assist you!

Regular checkups can help keep your child's teeth clean and cavity free. Schedule an appointment for your child's exam, dental cleaning and any necessary x-rays for only $45.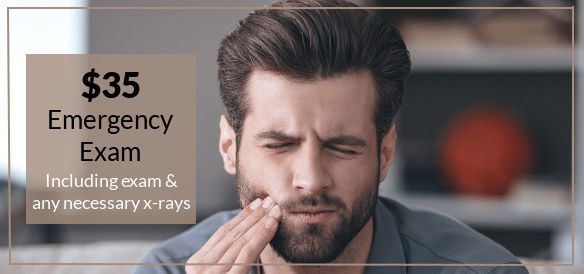 Dental emergencies can't wait. Call to schedule your $35 Emergency Exam (includes necessary x-rays) as soon as possible!

Schedule a new patient comprehensive exam, including a preventative cleaning and x-rays, for only $89. Dr. Shen will address all your oral health concerns — giving you the answers you need!

If you like us (and we know you will!), refer your friends and family! Not only will they benefit from quality dental care, but we will apply a $25 credit toward your account.
** This offer does not apply to members of the same household. **
Complimentary Orthodontic & Implant Consultations

Are you considering orthodontic treatment or dental implants? Trinity Family Dental is happy to offer free orthodontic and implant consultations. Learn how these advanced treatments can improve your quality of life!
10% Discount Veterans & Beneficiaries

Trinity Family Dental values the sacrifices of our servicemen and women. To express our appreciation, we offer a 10% discount on all services for veterans and their beneficiaries.
** This offer is valid for patients without insurance only. **
10% Senior Citizen Discount

Trinity Family Dental is proud to give back to senior citizens with a 10% discount on all dental services.
** This offer is valid for patients without insurance only. **
20% Off CEREC Same-Day Crowns

Our lab-quality restorations are made right here at our practice, so you don't have to spend two weeks waiting for a new dental crown!
** This offer is valid for patients without insurance only. **

Choose from a single tooth restoration, multiple tooth restoration, or implant-supported dentures. Schedule your complimentary dental implant consultation and save 25% off your implant.
** This offer is valid for patients without insurance only. **
Looking for a top rated dentist in La Mesa? You'll be happy to learn that our highly experienced dentists have the experience to keep you comfortable. Contact our team for a consultation today to find out how our team of family and expert dentists can help.
Monday: 8 AM - 5 PM
Tuesday: 8 AM - 5 PM
Thursday: 8 AM - 5 PM
Friday: 7:30 AM - 4 PM
Wednesday & Saturday by appointment only

5308 Lake Murray Blvd. Ste. E
La Mesa, CA 91942
5308 Lake Murray Blvd. Ste. E
La Mesa, CA 91942