Preventive and Periodontal Therapies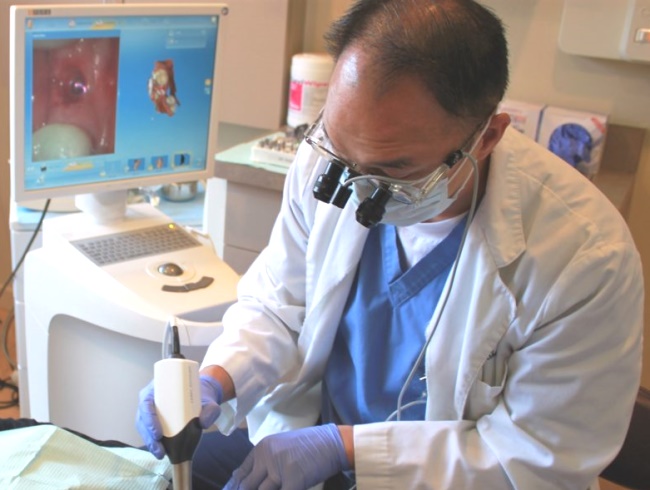 A healthy smile is an essential part of a healthy body. That's why Dr. Timothy Shen and the rest of the Trinity Family Dental team place so much emphasis on preventive treatment. From age 1 to 101, everyone can benefit from preventive dental procedures. We offer services for all ages in La Mesa and surrounding areas.

Schedule a new patient comprehensive exam, including a preventative cleaning and x-rays, for only $89. Dr. Shen will address all your oral health concerns — giving you the answers you need!
Dental Exams & Teeth Cleanings
Our dental hygienist uses specialized tools to remove plaque and calculus deposits which your toothbrush can't reach. This debris is what contributes to cavities and gum disease if not removed.
Dental cleanings are excellent opportunities to have your teeth and gums examined. Our hygienist may use an intraoral camera or laser cavity detection device to capture data of what's going on in your mouth. A complete dental exam is the best way to stay on top of your oral health since we will alert you to problems and make practical suggestions for improvement.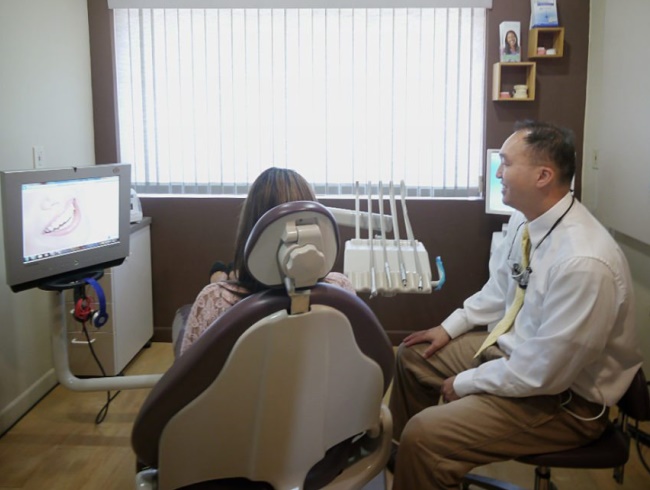 Oral Cancer Screenings
Oral cancer is a subtly dangerous disease since it often goes undetected until it's too late. Our La Mesa dentists prioritize cancer screenings and make sure that each patient is examined on a regular basis.
Fluoride Treatments
Fluoride treatments are an integral part of pediatric dentistry. Our dentists know exactly how much fluoride your child needs to have a strong smile for life. Professional treatments are both safe and effective.
Fluoride benefits aren't limited to children, alone. A professional fluoride application can help immensely if you suffer from sensitivity or a high cavity risk.
Dental Sealants
A sealant is a thin layer of resin material that's painted onto the chewing surface of molars. It "seals" out bacteria and food debris from packing into the grooves on teeth. This makes teeth easier to keep clean and reduces the chances of decay. Dental sealants are very important to the health of our pediatric dental patients.
Mouthguards
Do you grind your teeth in your sleep? Have a habit of clenching your jaw when you're stressed? Does anyone in your family regularly participate in physical sports?
If you can answer yes to any of those questions, then you need to ask us about how a mouthguard can help. A customized professional-grade mouthguard can save you a lot of time, money, and discomfort by protecting your teeth from injury. We also regard mouthguards as a means to protect the investment you've already made in your smile.
Treating Gum Disease
Sometimes, keeping gum disease at bay requires more aggressive measures than a simple cleaning. We have a highly skilled hygienist who can remove irritating bacteria and tartar from below the gums. Gum therapy, or periodontal treatment, is the hallmark of our preventive services here at Trinity Family Dental. We hold nothing back in giving you the best in gum care.
LAPT Laser Procedures
LAPT (laser-assisted periodontal therapy) may be necessary to decontaminate your gum tissues and promote healing after a deep cleaning. In some cases, we even top this off with localized antibiotic treatment to halt the infection at its source.
To keep your smile healthy, we recommend that patients of every age schedule a preventive care appointment at least every six months. Book yours today!
Is your smile in need of a repair? Our La Mesa dentists have the solutions to all your restorative needs.
Looking for a top rated dentist in La Mesa? You'll be happy to learn that our highly experienced dentists have the experience to keep you comfortable. Contact our team for a consultation today to find out how our team of family and expert dentists can help.
Monday: 8 AM - 5 PM
Tuesday: 8 AM - 5 PM
Thursday: 8 AM - 5 PM
Friday: 7:30 AM - 4 PM
Wednesday & Saturday by appointment only

5308 Lake Murray Blvd. Ste. E
La Mesa, CA 91942
5308 Lake Murray Blvd. Ste. E
La Mesa, CA 91942